Nissan Navara Double Cab 2.5EL 7AT
Handsome, darker and more prominent With special accessories around the car from model to front Aggressive with new graphic design Distinctive with exterior trim around the car Supplemented by orange line stickers Both front bumper Side mirror and side steps Strong and strong with large black wheel arches and 18 inch alloy wheels under the manly appearance of the Nissan Navara Black Edition. With the automatic speed control function Cruise Control to be standard equipment for all models Cutting-edge technology with Around View Monitor technology and new radios that can connect to smartphones including Apple CarPlay and Android Auto for greater driving comfort. Providing superior stamina without leaving comfort and safety.
นาวารา ดับเบิ้ลแค็บ แบล็คอิดิชั่น 2.5EL 7AT
หล่อเข้มและโดดเด่นมากยิ่งขึ้น ด้วยชุดแต่งพิเศษรอบคันเฉพาะรุ่นจากหน้าจรดท้าย ดุดันด้วยลายกราฟฟิกดีไซน์ใหม่ โดดเด่นด้วยชุดแต่งภายนอกรอบคัน เสริมด้วยสติกเกอร์ลายเส้นสีส้ม ทั้งกันชนหน้า กระจกมองข้างและบันไดข้าง แกร่งเข้มด้วยซุ้มล้อสีดำขนาดใหญ่และล้ออัลลอยขนาด 18 นิ้ว ภายใต้รูปลักษณ์ลูกผู้ชายของ นิสสัน นาวารา แบล็คอิดิชั่น พร้อมฟังก์ชั่นควบคุมความเร็วอัตโนมัติ Cruise Control ให้เป็นอุปกรณ์มาตรฐานทุกรุ่น ล้ำสมัยด้วยเทคโนโลยีกล้องมองภาพรอบทิศทาง (Around View Monitor) และวิทยุใหม่ที่สามารถเชื่อมต่อกับสมาร์ทโฟนได้ ทั้ง Apple CarPlay และ Android Auto เพื่อความสะดวกสบายในการขับขี่ยิ่งขึ้น มอบความแกร่งที่เหนือกว่าโดยไม่ทิ้งความสะดวกสบายและปลอดภัย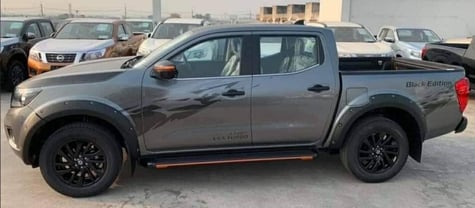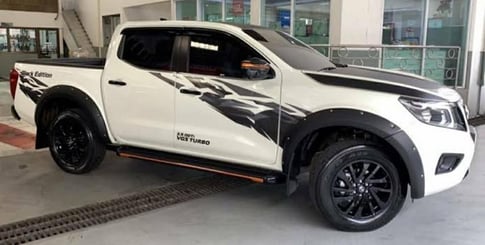 Not a BBX Member? Join Now!
BBXI Thailand Co,.LTD.
BBX Thailand
thailand@bbxworld.com
P:033 641 864
a: 222/99 Chalermprakiat (Pattaya 3rd) Rd. Banglamung Chonburi Thaliand 20150
Share it: