Chiang Mai Office Now Open
BBX ประเทศไทยยินดีเปิดสำนักงานสาขา เชียงใหม่ เราขอเชิญสมาชิกทุกท่านพบกับทีมงาน BBX สาขา เชียงใหม่ โดย คุณ ภคพร ไต่วัลย์ เป็นผู้ประสานงานการค้า (TCO) เพื่อดูแลการซื้อขายให้กับสมาชิกทุกท่าน ในระบบ BBX
สาขาเชียงใหม่ บริหารงานโดย คุณ ธีรวุฒิ อุ่นเมือง (ผู้จัดการสาขา) หวังว่าจะได้รับการสนับสนุนอย่างต่อเนื่องของสมาชิก BBX และเพิ่มโอกาสในการซื้อขายสำหรับสมาชิกทั้งหมด ในประเทศไทย
ติดต่อสอบถาม รายละเอียด
BBX สาขาเชียงใหม่ โครงการปาล์มสปริงพลาซ่าเลขที่ 199/29 หมู่ 5, หนองหอย, เมือง, เชียงใหม่ 5000
โทร. 093 1718383 และ 093 1718686
เปิดทำการ จันทร์ - ศุกร์ เวลา 09.00 - 17.00 น.
BBX are pleased to announce the opening of their new office in Chiang Mai Thailand. We invite all members to come and meet the BBX team at the new office. Pakaporn Taiwan is your Trade Coordinator (TCO) in Chiang Mai, and will be contacting all new and existing members with great opportunities to buy and sell using your BBX Trade Credits (BTC).
Theeravoot Oonmuang (Ake) will be the Chiang Mai branch manager. We look forward to the continued support from BBX members and great trading opportunities in Thailand for all BBX members.
Please come and meet our new team.
The new BBX office is located at Palm Springs Plaza Project Village, 199/29 Moo. 5, Nong Hoi, Mueang, Chiang Mai 5000
Telephone 0931718383 , 0931718686
Office Open Monday - Friday 09.00 - 17.00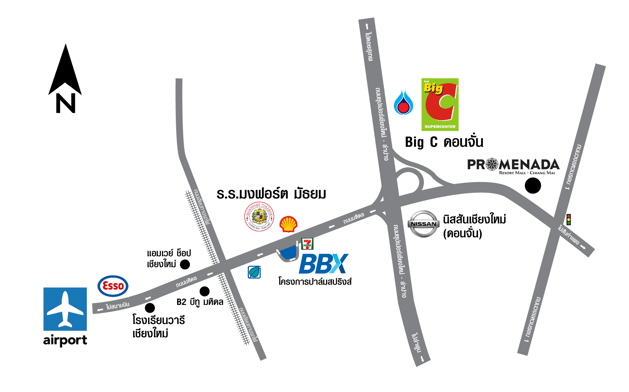 What Is BBX &
How To Implement It
Scan to pay! QR Code Available
093 1718383 , 093 1718686
BBX Chiang Mai Thailand,
Email : pakaporn@bbxworld.com
Palm Springs Plaza Project Village, 199/29 M. 5 Nong Hoi Muang, Chiang Mai 50000 Thailand

Share it: