Turmerix on Full Trade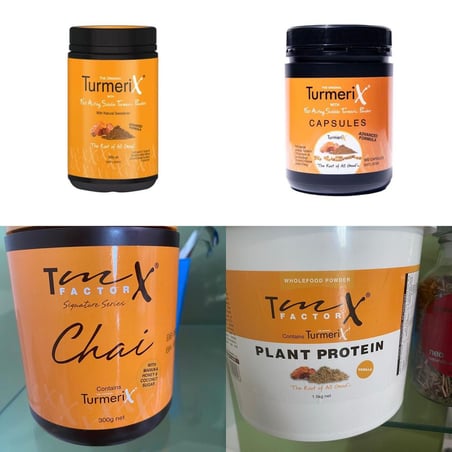 Turmeric - $80.00 BBX (QTY 64)
Protein Tub - $100.00 BBX (QTY 12)
Chai - $40.00 BBX (QTY 64)
Capsules - $150.00 (QTY 32)
DELIVERY CHARGES WILL NEED TO BE PAID IN CASH
1-2 items
Normal post $10
Express post $19
3-6 items
Normal post $20
Express post $30
TURMERIC IS COMMONLY KNOWN AS AN ANTI-INFLAMMATORY ASSISTANT DUE TO ITS BIO-ACTIVE COMPOUNDS
---
The curcumin within turmeric is a natural anti-inflammatory that can help reduce inflammation in the body. With turmeric being the main component of our product range, the TurmeriX blend is a safe and easy to consume turmeric powder. Our blend is based off ancient remedies that have worked for thousands of years.
The X-Factor ingredients!
TurmeriX contains turmeric and the X-Factor Blend including:
✓ True cinnamon
✓ Coconut powder
✓ Black pepper
✓ Fennel
✓ Vanilla
✓ Aniseed
✓ Caraway
✓ Ginger
✓ Clove
✓ Cardamon, and more!
Share it: