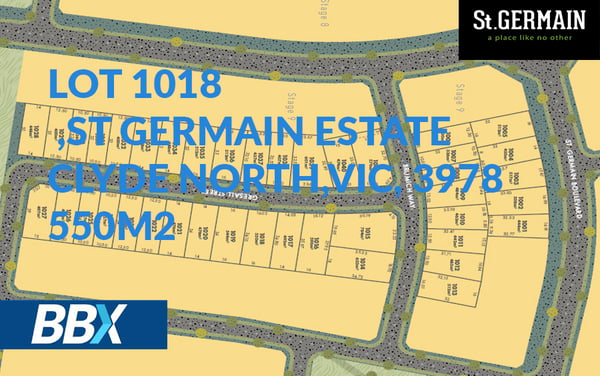 Lot 1018, St Germain Estate, Clyde North,VIC, 3978

Lot 1018, St Germain Estate, Clyde North,VIC, 3978
Property Type (eg unit, condo, house, land): Land
Price and Currency (BBX portion): $460,000,
Cash - $ 375,000 and BBX - $ 85,000 (18.5%)
Description: Land -550 m2
Width -16 m
Length – 35 meter
St Germain is a showcase development for the City of Casey, an enviable, thriving community comprising its own town centre, superb residential homes, vital infrastructure with health care facilities and employment opportunities. This is truly a place like no other. St Germain is located on Thompsons Road, just 10 minutes from the Princes Freeway (M1) and Berwick. Part of the booming southeastern corridor, it is only 45 minutes from Melbourne's CBD and 30 minutes from the beautiful coastal towns of the Mornington Peninsula.
Download Stage Plan for further information

For more Information, do not hesitate to contact our team for investments and real estate opportunity!!
Shafeek Yoosuf
03 8594 1839
0422 313 900
shafeekyoosuf@bbxworld.com
Share it: