BBX Canberra officially launch and inviting you to join on 19th Feb 2019 at Café
News Release 24th Jan 2019: BBX Australia now has a Master Licensee and State Manager for Canberra/ACT. Introducing Camtu Pham!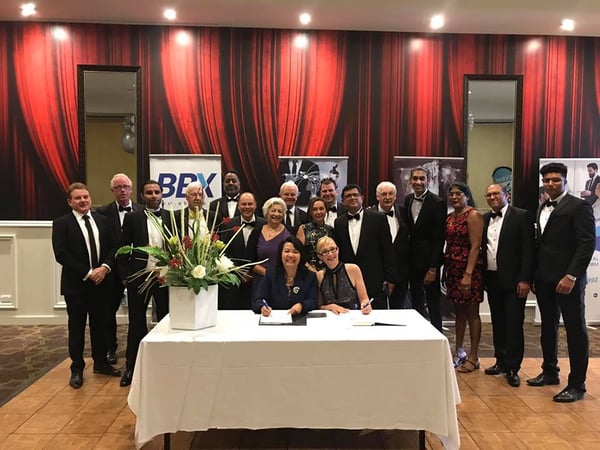 Image Resource: Camtu Pham signing contract as Master Licensee
"I started my career with Department of Defence in 1994 and worked in Canberra for 2 years. In 2010, while leading my digital marketing business, CleverLINK, we won a contract with AusIndustry which was aimed at helping SMEs in Canberra to embrace technology, so the capital city has always been a special place to me. It will be a pleasure to serve BBX's existing members as well as new members in Canberra and the surrounding areas in the years to come". said Camtu Pham.
"I am excited about the opportunity with BBX because it offers what the market needed. What I have now started is business matchmaking - helping to connect buyers to sellers. What it means is, any business that need more trade – BBX guarantee to supply them more customers." added Camtu.
There will be a formal launch on 19th Feb 2019 at EQ Café to celebrate the special occasion and to create an opportunity for business owners to network and listen to a presentation on the topic "7 Clever Ways to Accelerate Your Business Growth". Small business owners are invited to join this special launch breakfast.
Camtu is a business leader and has been a small business operator for over two decades. She has been a member of a trading platform for over 6 years and knows how this platform can assist businesses going through tough times such as through providing the interest-free lines of credit. Such access eases the financial burden for most businesses immediately.
Regardless of its size or number of years in business, every company has some form of "unsold time", "slow-moving stock" or "unsold hotel rooms" or "empty seats at restaurants." BBX can help to change this and help business to turn zero income into BBX credits. These trade credits can be used to improve the cash flow of the business or improve the lifestyle of the proprietors. BBX digital currency is registered with the ATO and corporations are required to treat it as cash for GST and accounting purposes.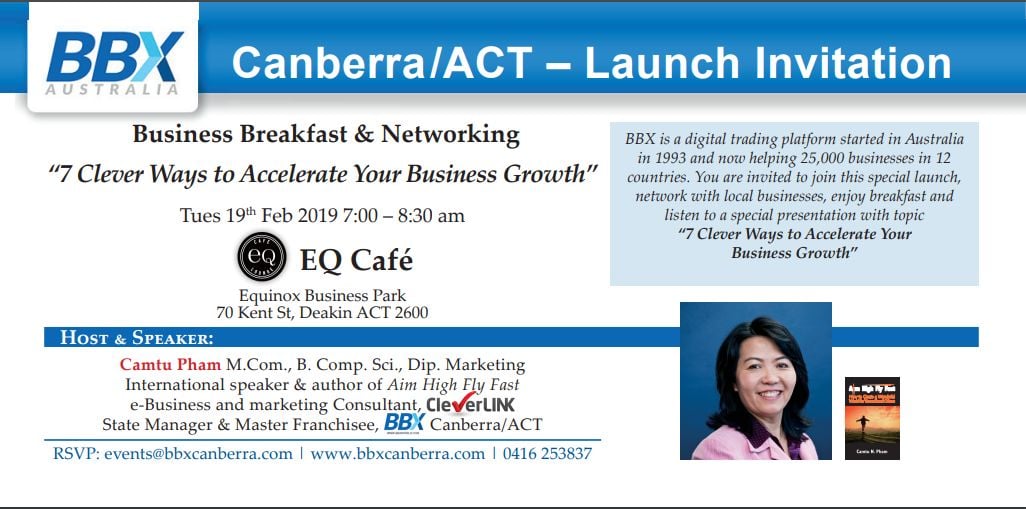 To Register Click Here: https://bbxcanberralaunch.eventbrite.com
What is BBX and how does the BBX Platform work?
BBX stands for Business to Business Exchange. BBX was first established in Australia in 1993 and now operates in 12 countries with over 25,000 businesses globally. In an average month, our clients trade in excess of US$20 million worth of products & services using BBX trading platform. Approximately
15,000 meals sold via BBX each month (based meal cost of $25)

2,200 vacant hotel rooms filled each month by BBX marketing channels (based on room rate of $230)

3,100 business service transaction via BBX each month, assisting our members save cash whilst increasing bottom line profits
Business operators trade goods and services with other owners in exchange for BBX Trade Credits; they then use these BBX Trade Credits to pay for what they need.
BBX acts as a third-party record keeper for a trusted digital credit known as the BBX Trade Credit. Its members use the trade credit to settle transactions on the platform. In doing so, it allows the value of each item traded to have its worth recorded and upheld in a BBX trade credit account. The key advantage to the business owner is that they can use the value with other members. In the network, such use assists them to manage cash flow and gain new clients.
Why businesses (include non-profit organisations) should get involved?
Why not? It is 2019 – time to accept digital currency and leverage the strength of a well-established fin tech company like BBX. Not to mentioned that BBX support members with interest-free lines of credit and guaranteed new customers.
How to get started on BBX?
Joining up is easy and you can do it online www.bbxworld.com. or contact BBX Licensee camtupham@bbxworld.com.au or +61 416253837 or head office on 02 9499 1100.
Which countries does BBX operate?
Countries of operation include Australia, New Zealand, England, Ireland, Scotland, Malaysia, Singapore, Costa Rica, South Korea and Thailand.
Does BBX provide a customer-satisfaction guarantee?
Yes! The platform guarantees new customers and improved cashflow. A 100% refund is payable (to the value of the paid membership) if in 12 months BBX fails to help you gain new business to at least the same value of your membership fee. (no bank, marketing company, membership association or business consultant will do this. BBX gives you the guarantee)
What is the GOAL of BBX Canberra / ACT?
Our goal is to work with over 100 + businesses within 3 years and create a strong a business network to support local enterprises and communities. We are also aiming to support local sport clubs, non-profit organisations and assist with their fundraising, and getting the equipment and support that they need.
Camtu Pham is an entrepreneur, international author and a leading e-business and marketing consultant. She is the owner and founder of CleverLINK and her role at CleverLINK will remain in foot in addition to her taking on the community manager/licensee of BBX. For Camtu with 20 years of experience in small and medium enterprises ('SMEs'), and a large network, the role at BBX is a natural follow-on. Her leadership and enthusiasm will benefit BBX's existing members and those yet to join.
"I chose to partner with BBX because it is a well-established company with proven-track record in digital currency. The organisation is a perfect fit for what I do: helping businesses achieve more on the digital economy. Though BBX, I can now offer a much wider range of services to local businesses," explained Camtu.
"I am excited to welcome Camtu Pham on board as our licensee and community manager for the BBX Canberra/ACT. Camtu will bring energy and leadership to further expand our network and give local businesses better BBX experience. Camtu will be a true asset to the BBX NSW South Coast Community" Said Carolin MacDonald, BBX Australia CEO.
Camtu is a former university lecturer at the University of Wollongong in e-Business and management. Camtu has a Master of Commerce (specialising in Information System), Bachelor of Computing Science and a Diploma in Marketing. She was named Sydney Business Woman of Year in 2005. Camtu is an international speaker and the author of Aim High Fly Fast: How to Create a Wonderful World for Yourself and Others.
Connect with Us to chat further:

VISIT OUR WEBSITE
if you include this email BBXNSWSouthCoast@groups.facebook.com in your proportion email, most recent content will be posted directly into the group.
More information on our next upcoming event or info@bbxworld.com
For more information please see:
Camtu Pham

Master Licensee & State Manager for Canberra/ACT

MOB: +61 416 253837

Carolin MacDonald

BBX Australia CEO

Tel: +61 2 9499 1110 (Direct)
Share it: