To provide an easy and structured way to help our community stay
positive, clear-headed, harmonious and optimistic at this
unprecedented time of uncertainty ZONEHIGH PTY is facilitating a
complimentary daily "Lunch in the Zone" on Zoom (every weekday) at
12 noon to 12.30pm Adelaide time.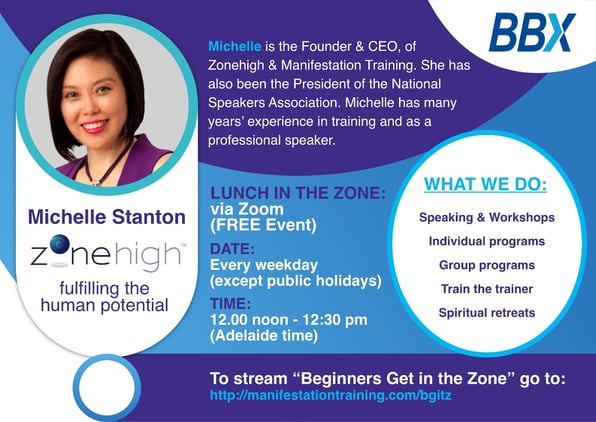 Everyone will be receiving the newsletter every MONDAY
9am. And the zoom link with password will be provided in
the same
In the first 15-20 minutes, we'll be doing the "Get in the Zone"
meditation together. For the rest of the time, we will be focusing on
what we are grateful for. The frequency of gratitude is the easiest and
most powerful frequent, to clear our minds, decompress stress and
most importantly, get in the Zone.
Do join us every day if you can or whenever you are able to. Please also
invite your staff, your family and friends to join in. They are all welcome.
For people who have never done "Get in the Zone" or "Re-Energise"
before, we are providing a free link (see below) to stream the
"Beginners Get in the Zone" before they attend Lunch in the Zone for
the first time
.
To stream "Beginners Get in the Zone" go to: manifestationtraining.com/bgitz
If we can all commit to being in the Zone during this period of
tremendous change and uncertainty, we will create a wonderful future
for all of us, while experiencing peace, love and joy in the moment.
To Confirm your Attendance Call Michelle
on
0404 808 750
michelle@zonehigh.com / www.zonehigh.com
Share it: