Thank you to all who came out to attend our BBX SYDNEY TRADE EXPO
we enjoyed seeing everyone networking and having fun
Congratulations to all our award winners and auction winners!
we are looking forward to an even bigger and better expo, coming soon..
Connect | Buy | Sell | Engage – Don't miss out on spectacular BBX Sydney Auction June 18th Yagoona Sports Centre
It is a great opportunity for BBX Members to take advantage on this expo. In just one day you can potentially connect with our existing member and explore on our opportunities.
If you would like to give and share your opinion and feedback about our event, please fill here!
STALLS
AUCTIONS
ENTERTAINMENTS & FUN


Great DJ – Corporate Photographer enabling market, promotions for BBX clients – Belly Dancers –Magician Unbelievable magic, stunning illusions, dazzling designs and hilarious entertainment
We would like to thanks all our stall holders, our members, and those who came all the way:
NATALIE MOY ESTILO EMPORIO PTY LTD MIND FOR LIFE JR & SONS POCKET ROCKET PETS BBX GWS INVENTORY ACCOUNT CLOUD NINE INVESTMENTS TRUST FUND TRANSFORMING THE MIND HAWKESBURY & DISTRICT BASKETBALL ASSOCIATION KJN AUSTRALIA HOLDING PTY LTD KJ ADVANTAGE SERVICELINDA PINKERTON LINDA PINKERTON LINDA DEZIGN TIME PTY LTD PBS GOLD CLASS MOWING AND GARDENING BRIAN SKINNER PHOTOGRAPHY FIVE STAR PROTECTIVE SERVICESPS CONTRACTING PTY LTD BRIAN DESIGN PHOTOGRAPHY OF AUSTRALIA HOUSE OF BOUQUET ABOVE & BEYOND FINANCIAL SERVICES BEZONI FACTORY CLOTHING TWR ADVISORY ALIGNMENT HEALTH CHIROPRACTIC WONDA LIGHTNING KURLY WURLY CLOTHING & BAR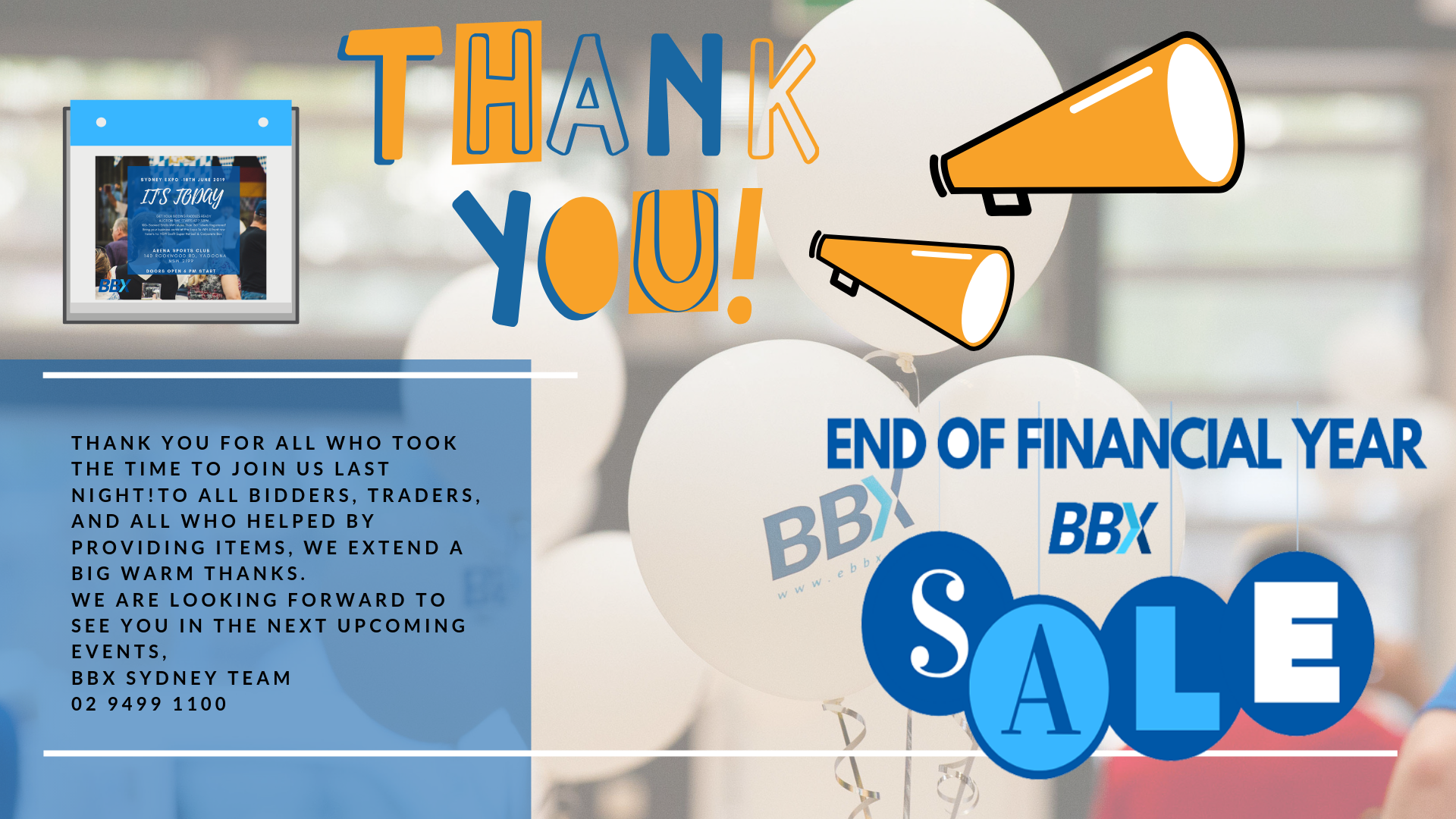 Once again, thank you for participating in our event. We hope you had as much fun attending as we did organising it! We want to hear your feedback so we can keep improving upcoming events. Please fill this quick survey and let us know your thoughts.Your input or feedback are greatly appreciated.


BBX Australia, 3/110 Hampden Road, Artarmon, Sydney, NSW 2064, Australia, 02 9499 1000
CLICK
HERE

TO REFER A BUSINESS ASSOCIATE

AND GO IN THE DRAW TO WIN!
FOR MORE INFORMATION CONTACT THE ADELAIDE BBX OFFICE
Share it: