On the 24th October 2016, iBBX China held a two days Project Seminar at Pu Ran Ecological Park in Sanhe City Hebei province. We are honoured to have 3 guest speaker shared their fantastic ideas at the seminar. They are:
Mr. Yuhang Gong - Dean of China Enterprise Finance Research Institute, Director of Vocational Education of Financial Planner, Vice President of Venture Capital Association of China;
Dr. Yin Shengde – Economics professor of China Renmin University;
Liu Zhe, Head of Happiness Holding Group of Tianjiu Group.
We have also gathered all franchisees and branch managers from various regions of China together to discuss the future of barter business and how to adapt into new economic era to reinvent and grow even bigger.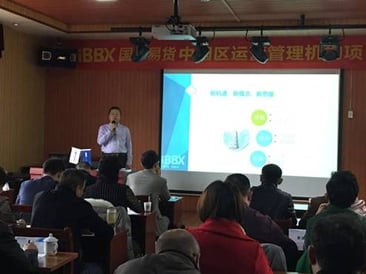 Mr. Pang Chairman of iBBX China gave a speech on the new concept of barter. From the global current economic status to the policies and regulations of barter trade in China. How to use the new barter concept to approach and help SMEs to grow their businesses, to solve their financial issues and lack of resources and so on. iBBX China's new ideas is based on the Internet+ thinking, financial thinking and globalization thinking, formed a three-dimensional structure, a purely e-commerce platform. Depth analysis of supply chain finance, Pang always pointed out the most viable way for the enterprises to overcome business obstacles is the barter industry. Barter + finance, the integration is an inevitable trend. Mr. Pang says, "If it's only about the finance, it won't go far, if it's only about barter, it won't grow strong".
[gallery ids="1497,1498" type="rectangular"]
Business Credit and Corporate Finance Planning – Mr. Yuhang Gong known as the Top No.1 domestic financial profession, Mr. Gong Yuhang made a keynote speech about "business reputation and corporate finance planning. As a cross-border expert on industrial economic and financial issues, he has given his own solutions based on the financial difficulties of small and medium-sized enterprises, Internet finance, science and technology finance and other characteristics of barter trade. Based on the Internet + barter e-commerce model, it will boost the transformation and upgrading the traditional enterprises - expand sales, move inventory and utilize excess capacity, turn an inventory into corporate assets and cash flow, it is a 10 trillion market.
Barter and industry chain finance – Mr. Shengde Yin
Barter trade is developing rapidly, and the relationship between barter and finance are inseparable. In order to give full play to the characteristics of the barter industry to provide assistance for all walks of life, to develop supply chain-related financial field is the top priority of iBBX China.
Post - modern Barter and Real Estate Go to Stock – Mr. Guanyu Che
There are a lot of reasons lead to the current real estate crisis but the main reason is the developers, investors blindly driving up housing prices. There is a demand for home buyers who simply just cannot afford housing. The financial post-modern barter now is the solution to the real estate inventory.
Internet + car on barter – Mr. Duan Gangfeng
iBBX China management team have done a detailed SWOT analysis, allow you to see the way through what can we do about car available on barter, you can form a non-breakable industry in China considering the current market situation, which will add a greatest advantage and characteristics in the near future.
The beginning of winter at Pu Ran ecological park was kind of cold, but the seminar definitely created some indescribable heat in the past a few days as you could imagine! Once again, well done team and iBBX China family.
Share it: