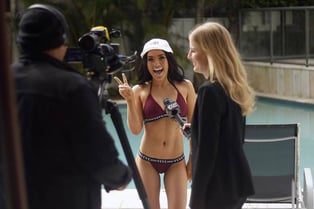 FACE OF ORIGIN is an exciting model search to find that young woman, with a fresh face, love's her footy and state - everything that is State Of Origin.
The event is glamorous and exciting, perfect to boost your venue's State of Origin Season.
The girls compete in 3 sections:- After 5 Wear/Cocktail Wear, Themed Footy and Swimwear before a panel of sponsors, judges and celebrities. The contestants are judged before a distinguished panel of judges, celebrates and sponsors.
BBX was extremely proud to sponsor this year's Face of Origin Sports Model Search. Competition was run throughout Australia with the National Final held in Queensland on Game 3 of the State of Origin. If you have members who would like to sponsor on BBX for next year, please contact us.
[gallery ids="354,356,357,358,359" type="rectangular"]
Share it: