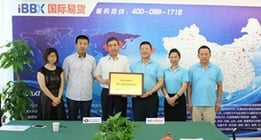 On the 23rd of June, the president of Chinese Academy of Corporate Finance Mr. Gong Yuhang and the Chairman of BBX China Mr. Pang Qijing has officially signed the joint venture agreement to launch BBX China
Business Barter Institution - the first Business Institution specialized in Barter in China.
Chinese Academy of Corporate Finance is recognized and supported by the Ministry of Industry and Information Technology of the People's Republic of China (MIIT), their mission is to educate the SMEs with their professional finance knowledge to help the companies develop into a more corporate and advanced business level.
Mr. Gong says," Virtual currency is the trend of future economic development. Trade dollar, as a form of virtual currency, has highlighted the core value of BBX business model; this will bring unlimited development opportunities in business innovations. Nowadays the liabilities problem has become a major issue for the China; the total debt amount exceeds over 50 trillion between businesses to businesses in China. Many people have tried different ways to solve this problem; however, there is no significant result so far. After careful research and analysis the BBX platform, we believe BBX China can help the companies in China solve the debt issues effectively in a much more practical way".
Big congrats to BBX China and we are looking forward to seeing our China Business Barter Institution can be up and running soon; to train and develop more people into talent elite to serve the barter industry and help with the country's economic growth.
Share it: